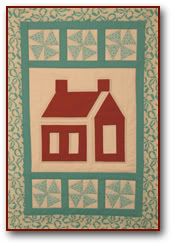 I was reading on PAMKITTYMORNING where Pam got her inspiration on a project, and I thought I'd do the same here! When I made the little house quilt for my Aqua/Red Swap partner, I looked no further then my medicine cabinet where I KNEW the most perfect red/aqua combo lived!
Not as exciting as Pam's Rice Krispie Treats… but it's all about the packaging. So much goes into package design and color… it's a shame to let all the talent and inspiration get hidden away in our pantries and cupboards. Next time you're perusing the aisles of your grocery store… your next quit inspiration may just be waiting for you on the shelf (and no doubt it will be on the hardest to reach shelf!).
Too bad I used the wrong setting on the camera… the quilt looks so dark and dingy next to the Aquafresh (it's a bright Kona Snow actually).
Posted in Quilty n Crafty |