After seven years of living up here, it never stops amazing me how big the weather is up here on the Oregon (and SW Wash.) coast. Wind, wind, wind… rain, rain, rain… more wind… more rain! Today I caught a quick glimpse of that shinny stuff… oh what's it called… I just can't think of the word… OH YES… it's called SUNSHINE! It lasted a glorious 5 minutes. If it rains any more, I'm sure Anderson Cooper will be here at any moment!
What started off as exciting wind, turned to a giant salad shooter of leaves. I feel like I've been living inside of a Cuisinart the last few days. It sure is pretty and a lot easier then shoveling snow (so I'm told). It looks like New Year's Day morning in Hawai'i, just that it's green, yellow and brown… instead of red.

In Minnesota they scrape snow and ice of the cars… here it's leaves. This is DS2 de-leaving my car.

In Minnesota they use snowplows to clear the roads of snow and ice… here they use snowplows to clear the roads of sand, logs and rocks. Thank you WSDOT for clearing US 101 for us!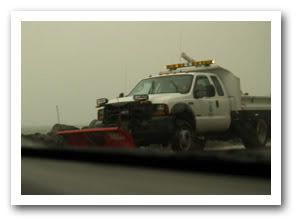 DS took these photos on the 101 just before the tunnel heading into Chinook, WA. It was so cool at the time… until what is now photo #3 gave us a good soaking.

Just above the tunnel sits Fort Columbia. I know very little about Fort Columbia except that it's beautiful and worth taking a drive through it if you're ever traveling on the 101 on the Long Beach Peninsula (and maybe even have a picnic there). Fort Columbia is about 10-15 minutes and across the river from Astoria. I love how this photo turned out… so very Goonie-ish.

Posted in How I Live |