Click on the FQ button and see what the good peeps at Fat Quarterly are doing if you donate to the Queensland Government Flood Relief Appeal. Every $5 can make a difference.  Check out Toni's blog and see what needs to be done… and what can be done if we all give a little.  We all can make a difference. Oi. Oi. Oi.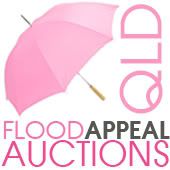 There's soooo much goodness out there that you can donate via and possibly win something - you'll find it all on Toni's blog.  I do want to shout out to my sisterfriends Sarah and Natalie and their donations.  Sarah is donating this quilt to support the Queensland Government Flood Relief Appeal …


… and Natalie is donating this quilt to support the Queensland Government Flood Relief Appeal…

These and soooooooooo much more CAN BE YOURS!
A personal appeal to anyone reading this to spend a little. I know times are tough - my own family is a victim of this bad economy.  My husband is on unemployment and we're dipping into my dwindling savings to just buy groceries. Not to get too personal or too sob story-ish… but I DO KNOW how tough a spare $5 or $10 can be.  I also know what it's like to live in a disaster and have help come from far and wide.  A little over 3 years ago we had a huge storm (20+ hours of hurricane winds and rain) - we lost part of our roof and dozens of trees; no heat, water and power for a week; no roads because they were under fallen trees; no phone, radio or tv; we were cut off from the world.  My little city was a sea of blue tarp'd roofs and roadways of fallen evergreens.


By no means were we a Katrina or Queensland flooding… but it was a disaster and we needed help.  And we got it.  There is no feeling like it in the world to see people from lands far and away come and give you aid and love. Strangers who've left behind their families to come help yours.  Our little Oregon community was flooded with emergency crews and utility crews from all over Oregon as well as California, Montana and Idaho.  Washington was kinda busy with The Storm themselves - and yet we still had crews come from Washington.  Amazing.


The kindness of strangers, no matter how big or small… makes a difference.


No matter how tough times are for me, and no matter how little or big I can give… I always want to be someone's Mountain Power of Idaho and hope you can too.
Posted in Do Something |