I'm so passionate about Iraqi Bundles of Love.   My first bundle is already in Iraq, and all I want to do is send more, more, more. There are no words to express my joy when I saw the photos of my bundle in Iraq. IN IRAQ!   Thanks to Art La Flamme (aka IBOL Guy), and with the help of his wife Kristin La Flamme… there's a new Oprah in town.


Because of IBOL - we've been given the opportunity to give big.  To be ambassadors in global kindness.  Little grass roots grow into big beautiful bountiful harvests - and continue to grow and grow.   Bundle by bundle.   My deepest thanks and gratitude to the La Flamme's for giving me the privilege of Doing Something and Making A Difference. Thank you, thank you, thank you!!!!  And thank you to all the good people who serve our country… and also to those who are servin' up the Bundles of Love in Iraq.
And because my creek-bed of curiosity never runs dry, I'd love to know via comments what you've sent or plan to send or what you think is a good idea to send.  I'm thinking my next bundle I'm going to name.  It seems only fitting that I name it Stephen.  Stephen Colbert.  And the one after that… I'm calling the next bundle Al Roker. It think we should all name our bundles!
I made myself an IBOL button, and please help yourself to one (or both).   SPREAD THE GOOD WORD!  Two options, 1) download the button, or 2) snag the code, or 3) print it out and pin it to your clothing.  Enjoy!
Yellow & Pink, 130 px wide: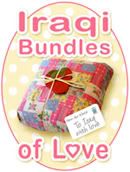 <a href="http://ibol.wordpress.com"><img src="http://i54.photobucket.com/albums/g105/cheesezom/ibol_yellow_130.jpg" alt="Iraqi Bundles of Love" width="130″ height="172″ border="0″></a>
Green & Blue, 130 px wide: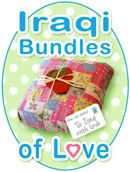 <a href="http://ibol.wordpress.com"><img src="http://i54.photobucket.com/albums/g105/cheesezom/ibol_green_130.jpg" alt="Iraqi Bundles of Love" width="130″ height="172″ border="0″></a>
Posted in Do Something |