I'm always saying, "I'm gonna write a letter" - and nine times out of ten I fail to do so. Maybe I just need a short cut! So here I go…
1. Dear People of the City of Portland,
Every time we come visit you it's a treat. You are so friendly and so kind and always make us feel welcome. You always put that extra foot forward to be kind and helpful. You're always colorful and exciting. Thank you!
2. Dear HBO,
Thank you for a second season of Big Love!
3. Dear T. Paul's Urban Cafe in Astoria,
Thank you for serving the finest food (and atmosphere) ever and for always remembering who we are when we come, (and that we have our ice-tea with no sugar on the rim).
4. Dear Shampoo manufacturers,
Can you please tone it down a bit on the scented products? If I want blueberry citrus kiwi peach vanilla milk n honey blast on my hair… I'll just go to Jamba Juice and pour a smoothie over my head.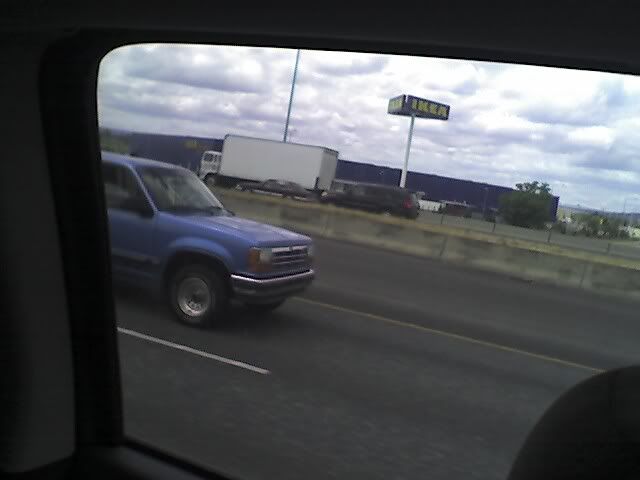 5. Dear IKEA Portland,

Open!
Open!
Open!
6. Dear former Portland mayor Vera Katz,
Thank you! Thank you! Thank you! (see #5)
7. Dear Scientists,
I'd like to be cloned please. One of me that just blog surfs and sews all day, and another one of me that cooks dinner, works, cleans, pulls weeds and does laundry.
8. Dear Merry Maids,
Since I can't have #7, do you take on charity cases?
9. Dear ODOT, WSDOT and Caltrans,
Your orange vests and cones really do the trick and I can spot you quickly and easily… but I do think you need some jazzing up. How 'bout some nice pink and green to go with the orange? Or aqua? Safety does not mean having to being unfashionable.
10. Dear clock,
Must you always move your arms so fast?
11. Dear Quilty & Crafty bloggy friends,
You are the nicest, warmest, friendliest, giving and inspirational women ever! Thank you for letting me be a part of your lives, and thank you for being a part of my life!
And last but not least…
12. Dear John,
Will you PLEASE teach Mochi and York how to use you? The whole litter box thing is so gross. And while you're at it John… can you please teach them how to flush as well?
Posted in Stuff |