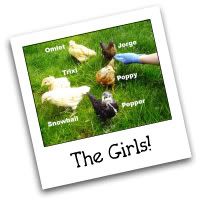 I don't know if there is such a thing as a "flock" of chickens… but it worked for the title of this! Here are the chickens when they are about 3 or 4 weeks old (they were born on March 9, 2006). DS2 is taking them outside for some fresh Oregon air. We kept them in the garage under a heat lamp until they were old enough to be outside 24/7. As of today, they have been outside for about a week now and they love it! Yes… Omelet's name is misspelled in the photo. Not really misspelled… I changed the name of her spelling since that photo was taken.
Inside the chickies play yard. When we first bought our house there was a tree fort in our side yard. Kind of cool… but it was small and looked like Sergeant Schultz was up there keeping an eye on us. So… DH and DS2 tore down the tree house and built it into one big deck. The underside of the deck became a catchall for all kinds of lumber, the lawn mower, etc. So we had this big idea of enclosing it and making it the play yard for the chickies. Liberty strikes a pose for the camera (er, ah, the phone I guess).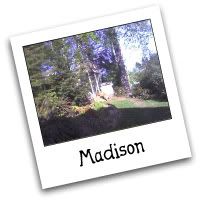 Madison saying hello in her own special way! As the chickens were getting bigger and bigger by the day, we were running out of time to build them a coop. I didn't just want a box for them… I wanted something that was cute too. After all… it was going to be a part of our landscape. By off chance we had heard that the farm store in Battleground sold coops. Perfect! So on our way to Portland one day, we take a side trip to Battleground and voila… this is our coop! I painted it to match the house. DH and DS2 butted it up to the play yard so the chickens can go in and out as they please (during the day). DS2 rigged the sliding door into a kind of draw bridge (he's such a McGiver), so it's easy in… easy out! The coop still needs a little more work, as DS2 is adding shingles to the roof of the coop. I love to reuse and recycle… the shingles were part of a set from the movie "The Ring 2″. Hopefully the coop won't be haunted.
Omelet and Poppy come to the fence to greet me.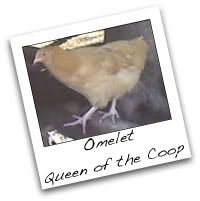 I let myself believe it's because they love me… but it's really because they hope I have some sort of treat for them. Omelet also likes my wedding ring. Oooh… sparkly… shiny… must peck at it. Omelet is Queen of the Coop. She really runs the show here. The other chickens protest her bossiness, but they always follow her rules in the end. Omelet is also fearless and thinks she's running the show for the dogs too!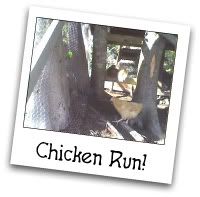 Omelet is not shy either, as she is intrigued by the camera. Poppy and Snowball sit on a perch, way too A-list to have their photos taken. These photos make the play yard appear small… but it's actually quite a large space for them. I'd say it's about 10′ x 12′, with a large overhead space so they can fly a little. I have no doubt that in the chicken world, this is a 5 star lodging establishment! Conde Nest??? The play yard is also hilly, with big roots sicking out for perching and climbing, shady areas, sunny areas, nooks and crannies… a real fun place for them!
Posted in Stuff |