For the last couple of days I've been struggling with a new service provider and many, many, many hours on the phone to "Bob", "Steve" and "Jane" in Bangladesh. Repeating over and over and over "I'm a Mac user" and "I don't have IE - I'm a Mac user". What really sent me on a fast train to Crabbyland was having to miss a sewing day with my guild. But it's done.
So anyhoo… I'm at the point where everything seems to be squared away and working. Fearing to check my email, thinking something is going to blow up or disappear, I hold my breath and click on my Apple Mail icon. And then I heard a harp, and then the clouds parted, and then a ray of sunshine shined down on this one email… an email from the talented and inspiring Anne of Bunny Tales saying she had tagged me with the Thinking Blogger Award. So what this is, you get tagged and you have to write about five blogs that inspire you and bring you joy. Sounds so easy. Right? Not. It would be easy if I could write about ONE HUNDRED AND FIVE! The downside is having to leave out those you love, and there are so many I love.
And if being tagged by Anne wasn't enough, PKM lets me know we were both tagged by Brenda of Little Acorns as well. I'm shaking my head in disbelief like a cartoon character shaking it's head to and fro (and clanging like a cow bell) and re-checking that I read it right… they are writing about me? Moi? I could easily let this go to my head and it could be time to go shopping for a bigger hat… but I'm too honored, too surprised and too over joyed! Thank you Brenda and Anne!
So on to my list of 5 blogs that inspire me. I really would love to write about more. My "Lunchbox" blogroll has all of my faves, and I hope you will nibble on some good clicky snacks from the lunchbox. :o)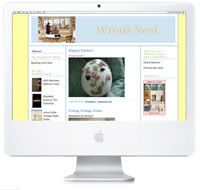 Wrens Nest - I think Jackie was one of the first bloggers to put me on her blogroll, so she has a special place in heart for that. Jackie was also the hostess for my first swap and made me feel welcome and at ease. I was such a newbie to blogging and swapping and Jackie welcomed me and helped me learn the ropes. Jackie is a talented with fabric, felt, food, family and life. If a blog could have grace, then Wren's Nest has it. The Jackie O or Grace Kelly of blogging.
Prairie Mouse - My down-under friend Louise makes THE MOST beautiful softies, and then she photographs them so beautifully they should be in a book. My favorite is Munk's trip to the beach. All of Louise's creations are expertly handcrafted and each has a darling story to tell. It's hard not to just want to jump into one of Louise's photographs and get lost in enchantment.
Creative Little Daisy - Autum shares not only her beautiful crafts and inspirations, but she also has a way with words like no one I know. Autum can write about weeds and with her words they suddenly become a beautiful bouquet of wild daisies in a jam jar in a secret corner of a garden, under a shade tree on top of a quilt reading a sweet vintage children's book. Autum is talented in so many ways, but most of all I adore her kindness and living a good life and passing it on.
Allsorts - Now I'm sure Jenny has been tagged a couple of thousand times already, but I'm not going to pass this up - and rave about her anyway. I think it was Jenny's blog that I saw for the first time that was a "crafty blog" and turned my blogging life upside down. It was Jenny who unknowingly got me hooked on the crafty blogging crack. Jenny's blog is not only filled with yummy inspirations and stunning photos, her blog itself is a work of art. Graphic, bright and happy… just like her and everything she creates and writes. Someone once posted a comment on her blog that said something like "that's so very Mary E". I really wanted to comment on the comment… "Um, that's so very Jenny B"!
Liquid Sky Arts - My friend Kathleen is an AMAZING photographer and I'm in awe of everything she snaps. I could easily make each and every one of her photos a flickr favorite of mine. Because of Kathleen's photos, I now look at things and think, "how would Kathleen see it", and suddenly what I'm looking at takes on new beauty. Kath has inspired me to look when I didn't look before. Kathleen's talent does not stop at photography… she's an artist and gardening diva as well. It was tough for me to write about Kathleen and not the talented Wende and talented Paula as well. The four of us are a little crafting foursome and get together for craft nights. All three inspire me! Our last craft night we surrendered to the idea that it's not craft night… but wine/food/laughter night. Oh, and Kathleen has blackmail material on me… quite possibly why she edged out Paula and Wende in this slot. ;o)
PamKittyMorning - This may look like I have six bloggers I posted about, but since Pam has been tagged twice (on the same blogs as me, talk about being an honor for me!), this is officially an unofficial non-six. Like the bonus number in the lottery. It doesn't count, but it's worth millions!
Pam is THE Queen of the Crafty Bloggers. Already she's a celeb, and is on the fast track to uber celebrity-hood! She quilts, she takes us on her trips, she writes about the ordinary and through her witty words become extraordinary events. Always sharp, always quick, always inspiring. I honestly think that Spring Market should be renamed PamKittyMorning Goes To Market.
Aside from being witty, funny, talented and inspiring… Pam is kind, generous and thoughtful. I can't even count how many times I've gotten MailBox Love from Pam. And not just MailBlox love… but little things she does in secret and surprises you (like the time she searched out my childhood home and photographed it for me). Everybody Loves PamKittyMorning and no day should start without a glass of of fresh squeezed PKM. I heart you Pa-mela, my TSAB. Super powers activated!
Posted in Stuff |