My WONDERFUL potholder swap partner was Autum of Creative Little Daisy!
Before I say more about all the lovely things she made and sent me, I must tell you that we had no idea what each of us was sending each other. Autum told me her fave colors, and I told her mine. Our packages to each other were literally two ships passing in the night (more like two USPS trucks rambling down the highway in the wee hours of the morning). So as it turns out, each of us had made the other two potholders (you can see we're not blog-law abiding citizens and broke the rule of sending ONE potholder)! In my case, I couldn't decide which one to send her, so I sent her both. In Autum's case, she not only sent me two… but she made this darling crafting apron too! OMG… I love what she made me and her workmanship is so beautiful and skillful! The potholder has a darling 30's looking teakettle that she embroidered AND it has one of Autum's signature yo-yos! It's JUST DARLING!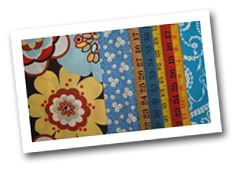 The ovenmit I just love too, and no way am I going to let food goop get on it. I'm thinking of hanging it on the wall and popping some of my vintage enamal spoons in it. And the pot holder I think I will use, but for only something sweet like serving tea to my friends. Who am I kidding… I'll be serving wine! But I may serve tea just because!
And if that wasn't enough… there was more! Autum sent me four fabrics, all beautiful and all something I myself would pick out! All these fabrics are delicious! I don't know if I watch too much TV (watching shows like Lost and Hereos), but I'm convinced Autum has a super hero power and can read my mind! What did I send Autum? You guessed it… four little swatches of fabric (or as Autum calls it… "yo-yo ammo"! Wild, eh!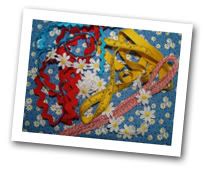 Of course the icing on the cake was how Autum wrapped it all up. She did EXACTLY how I did it (but bigger and better). White tissue wrapped and tied with ric-rac. Is that not too wild! Autum also used the darling daisy trim (I love, love, love daisies) and a generous amount of red/white floss I had never seen or heard of (but instantly fell in love with) called "baker's twine".
Everything Autum made - made me smile and I'm feeling so blessed. Not blessed because I scored (and boy did I score!)… but because such a beautiful person did such beautiful things for me! Thank you Autum!
Posted in Quilty n Crafty, Rico Swappy |