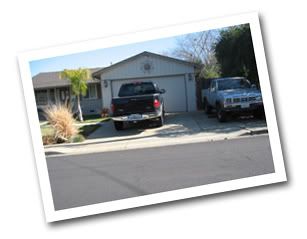 Has anyone ever done something for you that was just so BIG? Really, really, really big? Well… that happened to me this afternoon! Thanks to Pam, I got to experience something so big it made me bawl. Who knew that Pam going to the dentist today was going to make me cry!
So you see this photo of this house and I'm going on and on about a gift from Pam. Are you thinking, WOW… did Pam buy her a house? I guess I should back up a bit. At some point in our young lives, Pam and I were neighbors in a then little community nestled in the hills of the East Bay (of the San Francisco Bay Area). We didn't know each other, that we know of. Who knows… maybe we've met before when we were little and don't know it. Kind of like the TV show Lost where everyone has crossed paths at some point. Anyhoo… In Pam's busy crazy day, she takes the time and effort (and the curious stares of onlookers) to snap some shots of the first home I lived in. I was overwhelmed by her kindness to do something like this for me!
So this is where I lived for the first few years of my life in the early 60's. My mom said they paid a hefty 12k for it (new) in 1960. I just Zillow'd it and it's now worth over 500k. We didn't live there long, and soon moved to Orinda there after. Oh, and that house we lived in in Orinda… now worth about 1.5 million. And no… my folks didn't see a dime of those big bucks from either house. But I do have the best memories, and those are priceless!
And now the part of my story that's a zinger. This isn't actually my childhood home. It's the one next door to our old house where an elderly couple named Phil and Ina lived. Regardless… it's the fact that Pam went and did this for me that's priceless and brought me so much joy. I wish you all some PAMKITTYMORNING in your lives!
Posted in Stuff |