Friday, July 21st, 2006
At July guild, my secret pal struck again! Again she gave me two beautiful blocks. I'm so curious as to who this mischievously delightfully sweet person is!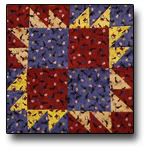 At Show & Tell I mentioned I was putting the blocks on my blog, but no one ratted themselves out. Which is good, I want to keep this as a surprise to me.
The thought of someone doing this for me really touches me, and inspires me to pass kindness on. And mischief too!