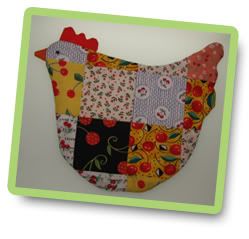 I got this potholder from my dear friend Cindy the other day. I squealed with delight when I opened the unexpected package! I wanted to post about it sooner, but I didn't want her swap partner Michelle to see it until she received hers from Cindy!
Oh this chicken is just so cute! And it's going on my wall in my office and not in a kitchen drawer. Cindy's nick name is The Chicken Lady (go figure… she has no chickens), and I love cherries. How cool that it's all rolled up in this DARLING pot holder! To think that Cindy went through her stash to find all the cherry fabs is just beyond sweet!
I want to share my story about my dear friend Cindy. Oh what a great friend she is! We met online years ago. I'm thinking maybe 1995 or 1996? She was in Vancouver (WA) and I in Honolulu. We met at a like minded forum (the "blogs" of the 90's) and then met IRL when I moved to the Oregon coast in '99 and we've been fast friends ever since. Now she's a temporary Wisconsinite (Wisconsiner?) until she moves back here and I miss her dearly. The last time we had gone to the Outdoor Quilt Show in Sisters, we were snapping away taking photos of quilts. People were so nice (as most quilters are) and moved out of the way for the shot. Almost everyone said, "Oh let me get out of the way". Our response to them was, "Oh no… it's you we want to take a photo of". Chuckle, chuckle. We said the next show we'd take real photos of people and give them funny names. And then Cindy moved. :-( But she'll be back and we're still going back to Sisters for more photos! Of quilts AND people!
Posted in Quilty n Crafty, Rico Swappy |