Friday, September 8th, 2006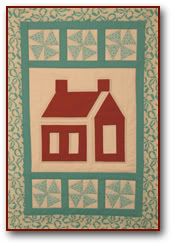 I finished my projects for my Aqua/Red Swap partner and I'm hoping to get them in the mail today. My little quilt measures 22" x 33". I really hope my partner likes it. Making a quilt for someone you don't know is hard since not everyone has the same tastes or likes the same styles. The best part of this was that I had fun making it for my partner!
I made this quilt from solids and the prints are 1930's feedsack reproductions. No pattern, sans the paper-pieced schoolhouse block. I just kind of made it as I went along. I got the schoolhouse block pattern at Quilter's Newsletter Magazine. Sidenote… I'm not one who enjoys paper-piecing (my brain just can't do it!), but this was a very easy block to paper-piece. If I can do it… anyone can! I also used the Tri Recs rulers to make my pinwheels. I just love all the tools from EZ Quilting and Darlene Zimmerman!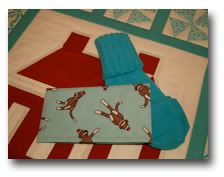 A few other things to add… a pair of aqua socks (that's so fun to say… "aqua socks"… "why that just knocks my aqua socks off!") and a checkbook cover I made with Moda's aqua "5 Funky Monkeys" line. I liked the check bookcover so much… I made one for myself too.